studio, era, studio era, photographer, vintage, pinup, pin up, glam, glamor, glamour, retro, model, 1920, 1940, 1950, 1960, 20's, 30's, 40's, 50's, 60's, 70's, medieval, photo, restoration, enhancement, event photography, wedding, video, Taber, AB, canada, classic, classic car, cars, custom, rental, rent, costumes, foubister, brad foubister, petra foubister, modeling, stock, stock photos, stock video, antique,
Studio-Era Store
Calendars
SFW Sexy Geek Calendar 2012
Teh (safe for work) Sexy Geek Calendar is filled with those sexy geeks that make our worlds go around.
Clicking on the image below will open a larger version in a seperate window.
Follow the View in Detail and/or Buy link below to view each month at Lulu.com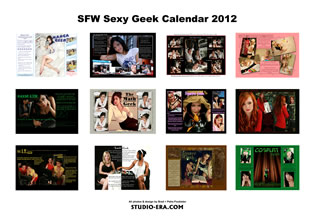 Paper version - $ 22.49
View in Detail and/or Buy here. or Print at home (PDF download) - $ 8.00
Buy here.
studio, era, studio era, photographer, vintage, pinup, pin up, 1920, 1940, 1950, 1960, medieval, photo, restoration, vancouver, b.c., bc, canada, classic, classic car, classic cars, costumes, foubister, brad foubister, petra foubister,